Here is a collection of 21 best 10 minutes Holi Recipes for you to enjoy. Make them and share them with your family and friends.
Holi is just around the corner, and this festival of colours and zeal is ideal to celebrate
When you're with your loved ones, having delicious food is an absolute must. and what's greater than that it will not even take more than 10 mins of yours.
These Holi dishes make the occasion memorable and enjoyable. Enjoy the festival by trying this perfect Holi special food.
Happy eating!
1. Aloo Chaat
Potato, the most basic vegetable of all time, is seasoned with a variety of Indian spices. A tasty snack called aloo chaat can be made in about ten minutes. To just have fun, prepare this tasty Indian snack at home.
Ingredients
250 gms Potato
For Chaat:
1/4 tsp black pepper
1/2 tsp red chilli
1/2 tsp roasted cumin powder
1/2 teaspoon dry mango powder (amchur powder)
1/2 teaspoon chaat masala
Black salt/white salt as per taste
1 tbsp finely chopped mint leaves
2 tbsp finely chopped coriander leaves
1 green chilli (finely chopped)
1 tbsp sweet tamarind chutney
1 to 2 tsp lemon juice
Steps
Take peeled potatoes and cut into finger-sized pieces.
Fry them till golden brown over medium-low heat.
Add them to Chaat and stir thoroughly before serving the heated mixture.
2. Dahi Puri
Pani puri is another excellent option for a quick holi special food thanks to the "pani" that splatters. Very simple to prepare, and once prepared, ingredients can be reused repeatedly until your hearts desire.
Ingredients
8 Puris (Gol Gappa)
1/2 cup boiled & chopped potatoes
1/4 cup chopped onion
2 & 1/2 tbsp tamarind chutney
1 & 1/2 tsp green chutney
1/2 tsp garlic chutney (optional)
1/2 cup beaten curd
1/4 cup sev
Chopped coriander to garnish
Steps
Break and open the pani puri and fill each one with 1 tablespoon of chopped, boiled potatoes and 1/2 tablespoon of chopped onions.
Sprinkle it with 1/4 tsp of garlic chutney, 1/2 tsp of green chutney, and 1 teaspoon of tamarind chutney.
Each puri is topped with 1 tablespoon of curd, some sev, and coriander leaves. Your dahi puris are now ready to eat.
3. Paneer Pakoras
Any dish using paneer is amazing. This simple Indian snack recipe is a love for a lifetime even though it only takes ten minutes to prepare. When you have visitors over, it also makes for a good recipe for holi.
Ingredients
150 grams of paneer cut into squares
1 cup besan
1 pinch turmeric powder
2 pinches of red chilli powder
1/2 teaspoon carom seeds (ajwain)
1 to 2 pinches of garam masala powder
1 pinch asafetida (hing)
salt as required
2/3 to 3/4 cup water
Ghee/oil to fry
Steps
Add besan to a bowl.
In accordance with the directions, add turmeric powder, red chilli powder, carom seeds, garam masala, hing, and salt now.
Whisk it, then begin adding water in small amounts.
To make a batter that is just a little bit thick, now use the mix-and-cut method.
Around 1-2 cups of ghee or oil should be added to a hot pan. Wait until it is warm.
Now at medium temperature, add the paneer pieces that have been diced to the batter, and drop them into the hot ghee or oil.
Let it get crispy and golden brown. With green, red, or both chutneys, serve hot.
4. Bhel Puri
Every time anyone has hankering for the spiciness of street cuisine, I've seen my dad prepare a delicious plate of bhel puri at home. Almost anything may be added and it will still taste like a warm hug.
Ingredients
2 cups murmura / puffed rice
1/2 onion (finely chopped)
1/2 potato/aloo (boiled & cubed)
3 papdi (crushed)
2 tbsp fried peanuts
2 tbsp tomato (finely chopped)
1/2 tsp chaat masala
1/4 tsp red chilli powder
1/4 tsp salt
3 tbsp tamarind chutney
2 tbsp green chutney
1 tsp lemon juice
2 tbsp sev
1 tsp coriander
Steps
Take 2 cups murmur and place it in a sizable mixing dish.
Add 2 2 tbsp fried peanuts, 3 crumbled papdi, 1/2 onion, 1/2 potato, add 2 tbsp of tomato, 1/2 tsp of chaat masala, 1/4 tsp of chilli powder, and 1/4 tsp of salt as well.
Make sure the spices are well blended.
Add 3 tbsp of tamarind chutney, 2 tbsp of green chutney, and 1 tsp of lemon juice after that.
Add 2 tbsp of sev and combine.
Enjoy the bhel puri once it has been topped with some crushed papdi, onion, and coriander.
5. Poha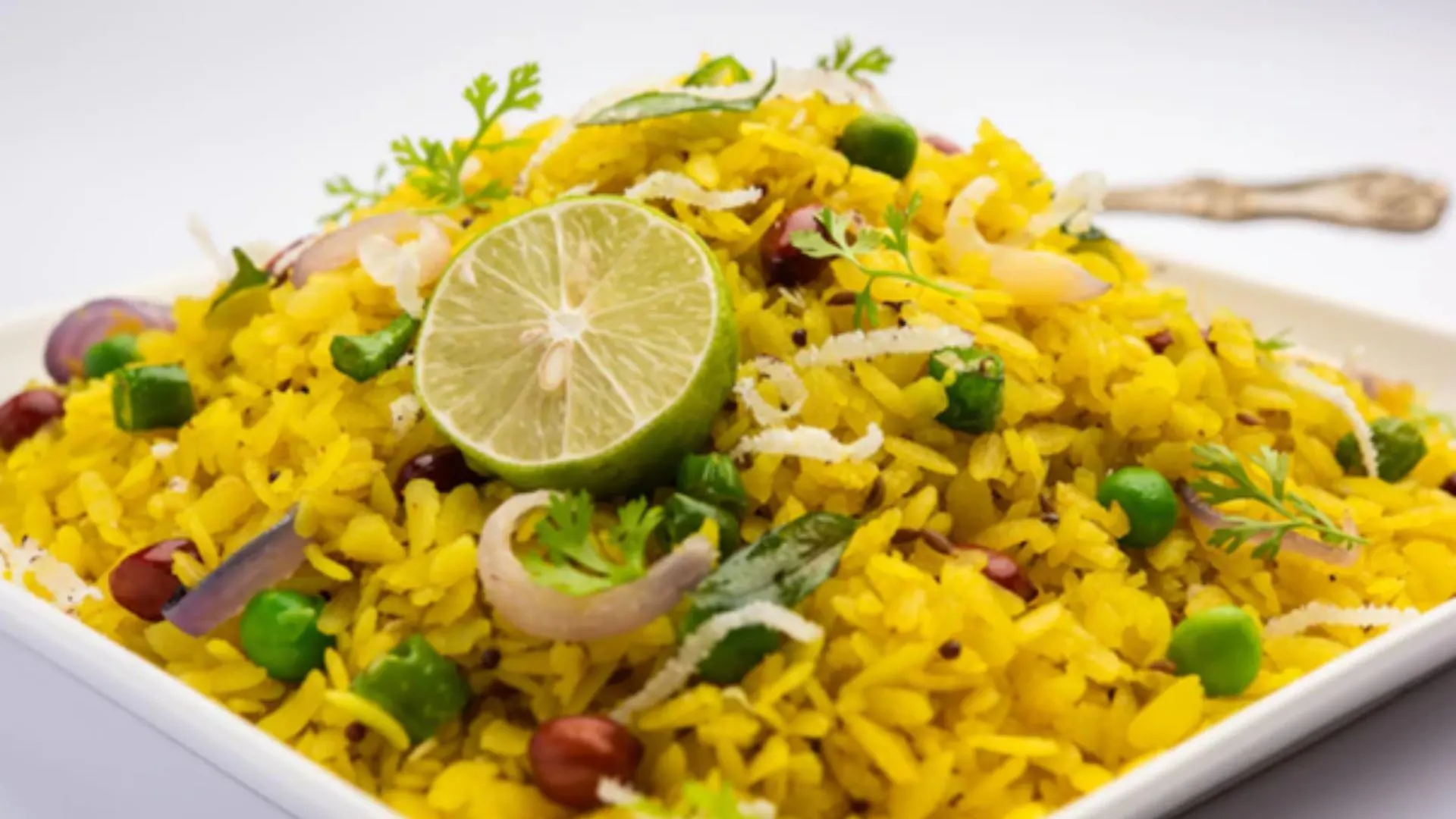 Poha, which was originally eaten as a breakfast item, is now a delicious Indian snack and just takes ten minutes to prepare. The best thing about this dish is that, once you master it, you can prepare and consume it in less than 10 minutes.
Ingredients
1½ cups poha/flattened rice
1 onion medium
12-14 curry leaves
2 green chilli
¼ cup raw peanuts
1 tsp mustard/rai seeds
¼ tsp turmeric/haldi powder
2 tsp refined oil
1 tsp sugar
Fresh coriander for garnishing
salt to taste
Steps
Add poha to a sieve and rinse it thoroughly with water. Let the poha rest, till the rest of the ingredients are prepared.
Add poha to a sieve after a thorough water rinse. Add some sugar and combine it carefully.
While we prepare the remaining ingredients, let the poha rest for a while.
Raw peanuts should be added to a pan and dry-roasted for 3–4 minutes, or until they become aromatic over a medium flame.
Place the peanuts in a bowl, then add oil to the same pan. Let the oil gets heated, and add mustard seeds to it. When the mustard seeds pop, add chopped onions and cook them for one minute.
Add several curry leaves and continue to cook the onions for an additional until they turn golden.
After that add turmeric, and stir with light hands before adding peanuts and poha. Avoid overmixing or the poha may break.
Cook it for 2 minutes on a low to medium burner while covering it with a lid.
Once finished, drizzle some fresh coriander and lemon juice on top and enjoy your holi special food!
6. Instant Oats Dosa
Healthy, delicious and instant to cook, oats dosa is a multi-nutritious snack that is not only good for your health, but it's also filling.
Ingredients
1/2 cup quick-cooking oats
1/4 cup rice flour
1/4 cup Rava (sooji)
1/2cup Curd
1/4cup finely chopped onion or 1 finely chopped small onion
1 tsp finely chopped ginger
1 tsp finely chopped green chillies
1 to 1.5 tsp chopped coriander leaves
7 to 8 curry leaves
1/2 tsp cumin seeds
1/4 tsp black pepper – crushed
1 to 2 tsp grated coconut optional
1.25 cups water or add as required
Salt as taste
10 tsp oil
Steps
Grind cooking oats, add 1/4 cup rice flour, 1/4 cup rava/sooji, 1/2 cup fresh curd, and 1 cup water.
Stir until the mixture is smooth and free of lumps.
Add finely chopped onion, ginger, green chillies, coriander leaves, and curry leaves, finely chopped as directed.
Stir well again, and then add 1 teaspoon of cumin seeds, crushed black pepper and salt to taste. Stir once more.
Heat a nonstick pan on medium heat with 1/2 teaspoon oil and spread.
Stir the batter, then use a ladle to pour it from the outside to the centre.
Flip and cook the other side once the base has become crisp and golden.
Serve with coconut or green chutney and enjoy!
7. Watermelon Olive & Feta Salad
Here's a fruit that's been transformed into a luscious summer salad that you can eat all day. It will hydrate your body while keeping toxic elements at bay. It's a quick healthy snack that only takes 10 minutes to prepare.
Ingredients
1 medium watermelon
8-10 pitted black olives
2 tablespoons feta cheese
1/4 cup fresh mint leaves (for dressing)
2 tablespoons lemon juice
Salt to taste
A pinch of crushed black peppercorns
6-7 fresh oregano sprigs
Chopped 6-7 fresh parsley sprigs
Chopped 2 tablespoons extra virgin olive oil
Steps
Using a melon scooper, cut the watermelon in half to make this recipe for holi
and scoop out balls.
To make the dressing, combine lemon juice, salt, crushed black pepper, oregano, and parsley in a mixing bowl. Now begin whisking.
Then add the olive oil and whisk once more.
Mix together the melon balls, mint leaves, olives, and dressing in a large mixing bowl.
Place the dressing in a serving bowl and top with the feta cheese.
8. Coconut Logs
A 2-ingredient snack that takes less than 10 minutes to prepare and provides health benefits and flavour for as long as it lasts. Serve them as an after-dinner dessert.
Ingredients
1/2 cup dates pitted
1 cup desiccated coconut
Steps
Blend the first two ingredients in a blender until they are combined.
Roll into 6 logs and serve immediately or store in the refrigerator.
Read more: https://www.beingmomandmore.com/12-creative-and-fun-ways-to-encourage-toddler-learning/
9. Peanut Butter Oatmeal
Peanut butter and oatmeal. What else can be the better combination that is both tasty and healthy?
Ingredients
1/8 Teaspoon Salt
1 cup Old-Fashioned Oats
2 Tablespoons Peanut Butter
2 Teaspoon Grounded Cinnamon
2 Tablespoons Honey
Steps
Take a saucepan, add water and salt, and boil it.
Add the oats and stir to combine.
Cook for about 4-5 minutes on medium heat.
Dress it in peanut butter, cinnamon, and honey.
10. Apple Moons
Do you like apples? These crescent apples with peanut butter and granola goodness will ship you to the moon. And you don't have to be worried about your weight.
Ingredients
1-2 apples
Peanut butter
Loose granola
Steps
Slice the apple into crescent shapes.
Spread the exposed side with peanut butter.
Press the slices against the granola, then freeze for 4-5 minutes before serving.
11. EggToasty
This quick egg recipe for holi will come in handy for anyone who enjoys eggs with toasted bread. It's time to bring them to life by combining the entire meal into one. "Egg toasty" we can say this to it.
Ingredients
1 Egg
A single piece of bread
1/4 tsp salt
1/4 tsp red chilli powder
1/4 tsp black pepper
Coriander to sprinkle
Steps
Punch a hole in a piece of bread with a cup.
Spread some butter on a nonstick pan and toast the bread.
Crack the egg into the hole and season with salt, chilli powder, and black pepper as directed.
Allow it to cook. When finished, garnish with coriander leaves and serve hot.
12. Grilled Sandwich
When the craving for something light and tasty comes up during the day, the solution is a delectable grilled sandwich. The great thing about grilled sandwiches is that you can stuff them with as many veggies, chicken fillings, sauces, and cheese as you want and they will still taste delicious.
Ingredients
2 slices brown bread
1 handful mint leaves
2 pinches salt
1 small tomato
1 medium boiled potato
1/4 teaspoon chaat masala
1/4 cup water
1 handful coriander leaves
2 green chilli
1 medium cucumber
1 small onion
2 tablespoon butter
2 wedges of cheddar cheese
Steps
Trim the bread on all sides, spread butter on one side, and then spread the green chutney all over.
Place the cucumber, tomato, and onion slices, as well as the potato slice, on top of the bread slice.
Season the vegetables with salt and chaat masala. Spread the grated cheese on top and top with the other slice of bread.
Grill the sandwich for about 2-3 minutes on each side. When finished, cut into pieces and serve hot.
13. Rumaly Burger
Try not to be misled by the dish's name because you are about to witness something extraordinary. Once you've had a Rumaly burger you will always demand it. A real gem in the cooking world and heaven-made for clumsy chefs like myself.
Ingredients
Bread/Buns
Soy chunks
Cream & Mayonnaise
Spices( Salt, pepper, garam masala, chicken masala)
Corriander to garnish
Eggs
Steps
Make a hash-brown omelette.
Place the soaked soya chunks in the pan while it cooks.
Mix in the cream, 1/2 tbsp mayonnaise, and spices. Mix thoroughly.
After your omelette has finished cooking, toast your bread/buns until brown.
Pick up the omelette and place it carefully on the toasted bread/bun. Place the filling on the bed and fold the omelette over it to cover it.
Put another piece of bread/bun on top and you're ready to rock your world.
14. Cheesy Maggi
When your heart desires all of the creamy delicacies from around the world, make this basic Maggi with an Italian twist. Ensure that there is enough cheese to go around for this holi special food.
Ingredients
Maggi double pack
1 tablespoon Olive oil
1 teaspoon grated Garlic
1 cup Chopped Veggies (capsicum, bell peppers, onion)
1-2 tablespoon Cheese spread
Chopped Basil leaves
Steps
Heat the oil in a nonstick pan and fry the grated garlic for a minute before adding the basil leaves.
Cook the chopped vegetables until tender.
Turn off the heat and spread the cheese spread over the diced vegetables. Mix thoroughly and set aside.
Make your regular Maggi noodles. When finished, pour the well-cooked Maggi with an Italian twist.
Garnish with basil leaves and serve immediately.
15. Malai Paneer Chilli Flake Squares
This quick evening snack recipe is simple to prepare. To make a hot evening snack, smush staple cottage cheese into a ball and top with spicy red chilli flakes. It's a great kitchen hack for a holi get-together.
Ingredients
1/4 cup crumbled malai paneer (cottage cheese)
2 tbsp dry red chilli flakes
1 tsp salt
Steps
On a plate, combine paneer and salt and cut in squares.
Roll them in dry chilli flakes and fry with mild oil on a pan until it turns golden
Serve hot with the mint dip.
16. Bread Pizza
Pizza goodness on a slice of bread. This quick evening snack takes me back to my childhood. It was my mother's go-to quick recipe, and it is now mine as well.
Ingredients
3 slice bread (white or brown)
Pizza sauce
Capsicum (sliced)
Tomato (sliced)
Onion (sliced)
Sweet corn
Olives (sliced)
Jalapeno (sliced)
Mozzarella cheese (grated)
Chilli flakes
Mixed herbs
butter (for toasting)
Steps
Spread 2 tsp prepared pizza sauce on a bread slice.
Add some capsicum, tomato, onion, sweet corn, olives, and jalapeno on top.
Spread a generous amount of mozzarella cheese on top.
Sprinkle with chilli flakes and mixed herbs.
Brush the bread slice with butter and place it on the tawa.
Cook for 2 minutes on low to medium heat, covered, until the cheese melts.
Finally, cut the bread pizza in half.
17. Crispy Corn
Your chai defiantly needs a companion And what could be better than a bowl full of crispy sweet corn? They're super tasty, easy to make, and perfect for people who enjoy spicy snacks.
Ingredients
2 cups sweet corn
2 tbsp Cornflour/corn starch
2 tbsp All-Purpose Flour (maida)
2 tbsp rice flour
Salt to taste
Black Pepper Powder to taste
Peri-Peri seasoning to taste
2 tsp Lemon Juice
1 small onion (finely chopped)
1 green chilli (finely chopped)
3 tbsp coriander leaves (finely chopped_
Oil for deep frying
Steps
Microwave sweet corn for 1 minute. Drain the corn completely.
Mix in the salt and pepper to taste.
Toss in the flour gently.
Shake it through a fine-mesh sieve to remove any excess flour.
Heat the deep-frying oil until it is extremely hot.
Drop the corn into the oil. Fry until super crispy and golden. 3 to 4 minutes. In a sieve, drain it.
Now stir in the seasoning, lemon juice, onion, and coriander leaves.
Serve immediately.
18. Bread Masala
It's a classic leftover bread recipe. I've learned to make do with what I have in my pantry. But, to my surprise, this turned out pretty well.
Ingredients
5 slice bread (white/brown)
2 tsp butter
2 clove garlic (finely chopped)
1 chilli (slit)
2 tbsp spring onion (finely chopped)
1/2 onion (finely chopped)
1/2 carrot (finely chopped)
2 tbsp cabbage (finely chopped)
2 tbsp capsicum (finely chopped)
2 tomato (finely chopped)
1 tsp pav bhaji masala
1/2 tsp salt
2 tbsp tomato sauce
Steps
In a large Kadai, melt the butter and sauté the garlic clove, chilli, tbsp spring onion, and onion according to package directions.
Mix in the vegetables, 2 tomatoes, and 1/4 teaspoon salt. Cook thoroughly.
Add 1 teaspoon pav bhaji masala and 1/4 teaspoon salt.
Add 2 tablespoons tomato sauce and mix well.
Now, gently fold in the bread pieces.
Finally, garnish with coriander leaves and serve with hot chai.
Read more: https://www.beingmomandmore.com/7-food-items-in-your-diet-to-protect-your-brain/
19. Bread Fritters
Warm up your gas stove for some delicious bread fritters for your holi guests. This recipe only takes 10 minutes to prepare, allowing you to spend the rest of your day eating and enjoying.
Ingredients
10 leftover bread slices
1/4 cup curds (dahi)
1/2 cup grated carrot
1/2 cup besan (Bengal gram flour)
1 tsp green chilli paste
2 tbsp chopped coriander
Salt to taste
Oil for greasing & deep-frying
Green chutney & Tomato ketchup
Steps
Remove the crusts from the bread slices and crumble them into small pieces with your fingers in a large mixing bowl.
Mix the curds in thoroughly with your fingers.
Mix in the carrots, besan, green chilli paste, coriander, and salt.
Mix in about 1/4 cup of water until the mixture binds well.
Make 16 equal portions of the mixture.
Divide the mixture into 16 equal parts.
Roll a portion into a round ball between your palms. In a deep nonstick kadhai, heat the oil.
Deep-frying all rolls in packs on a medium flame until golden brown.
Drain and Serve with tomato ketchup and green chutney.
20. Carrot Pinwheels
Carrots are high in vitamin A and their taste makes them an ideal snack for a late-night holi party. It is popular with both children and adults.
Ingredients
1 cup grated carrot
1/4 cup cheese spread
2 tsp finely chopped celery
1 tbsp tomato ketchup
Salt
Freshly ground black pepper powder to taste
6 fresh bread slices
Steps
Combine all of the ingredients, except the bread slices, and mix well.
Separate the topping into 6 equal portions and set aside.
Trim the edges of each bread slice and thinly roll them out with a rolling pin and your perfect recipe for holi is ready.
Spread a portion of the topping evenly over a rolled bread slice on a dry, flat surface.
Lift one end of the bread slice carefully and roll it tightly until it reaches the other end to form a roll.
Each pinwheel should be cut into two equal parts diagonally. Serve right away.
21. Microwave Potato Chips
Although store-bought chips are delicious, homemade microwave chips are far healthier. You'll be fine if you serve it with a garlic or mint dip.
Ingredients
1 Potato
Salt to taste
Olive oil
Steps
Slice the potato into 3 mm slices on a cutting board.
Dry the potato slices with a paper towel until no moisture remains.
Place the sliced potatoes in a bowl and drizzle with olive oil.
To keep the chips from sticking, coat a large flat microwavable-safe plate with olive oil.
Spread the chips out evenly on the plate and season with salt.
Microwave the chips on high for 6-7 minutes, or until they begin to brown. Remove the chips from the microwave when they have developed some colour and slowly peel them from the plate.
Repeat until all of the potato slices are cooked, then serve the holi special food!