India is a country of festivals, where every festival is celebrated with special enthusiasm. This year, however, the energy is great as we will be welcoming and celebrating it after two tough years.
In the last two years, the pandemic has hit everyone in a different way, and celebrations have also been done in a minimalist yet fun way.
This year, everyone will be celebrating these festivities to the fullest, though with a mix of nostalgia for how the last two years went off during the festival season. Like everyone else, I am too fully geared up starting from Navratri (a whole week of celebration) to take this season by storm.
Navratra Meaning and History
As we all know, Navratri stands for a true devotion of "nine nights devoted to the Divine Mother or Shakti." This celebration is held between the 1st and 9th of Ashvin Sud (September- October).
Throughout most regions of India, the Navratri fast lasts for nine days. Navratri is a cultural festival of the feminine as the conqueror of evil.
According to legend, Mahishasura, the demon, worshipped Lord Shiva and gained eternal power. So he began killing and harassing innocent people in order to gain seven lokas.
All the gods of Swargaloka begged Lord Shiva to subdue the demon, fearful of his power. Then Brahma, Vishnu, and Maheshwar (Shiva) combined their supreme energies to form Shakti, or Durga, the Warrior Goddess.
When Mahishasura witnessed the beauty of the goddess Durga, he was captivated by her beauty and approached her with the goal of marrying her.
Goddess Durga agreed to marry him on the condition that he defeated her in a duel. Mahishasura, who was conceited about his might, accepted combat.
The combat lasted nine nights, and at the end of the ninth night, Goddess Durga beheaded Mahishasura. As a result, the nine nights for which the war was waged are known as Navratri.
This is when everything in the world slows down, including the body, which enters a state of lethargy when the weather changes with the arrival of winter.
Fasting during Navratra
Previously, people would meditate during the fasting period – there was no action. However, people increasingly engage in a variety of activities such as working, learning, travelling, and so on; housewives should recognise that they, too, are working. These activities necessitate the consumption of appropriate nutrition.
Fasting and working hand in hand can result in dehydration, weariness, weakness, and stomach problems. So they should take care of their diet during these nine holy days and follow a healthy diet.
However, if done right, Fasting during this time helps boost immunity by flushing out any toxins that have accumulated if done in a healthy way.
Replacing heavy grains with sattvic foods such as fresh fruits and vegetables provides energy and equilibrium to the system is another way to do it.
On the final two days, when the fast is broken, nine small girls and a young boy (named "Kanjak Pujan") are worshipped as the divine images of the goddess.
Nine Swaroops of Goddess Durga
The nine swaroops of goodness that are celebrated and pried upon during these nine days are: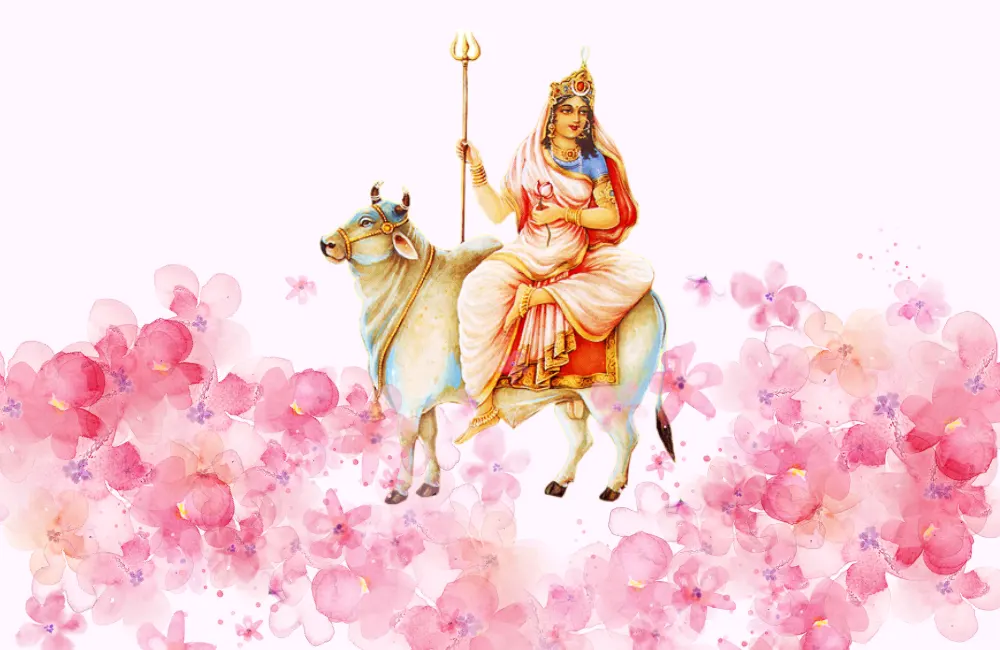 Maa Shailaputri
This day, known as Pratipada, is associated with Shailaputri (roughly "Daughter of the Mountain," an avatar of Parvati. Mahakali's incarnation is Shailaputri.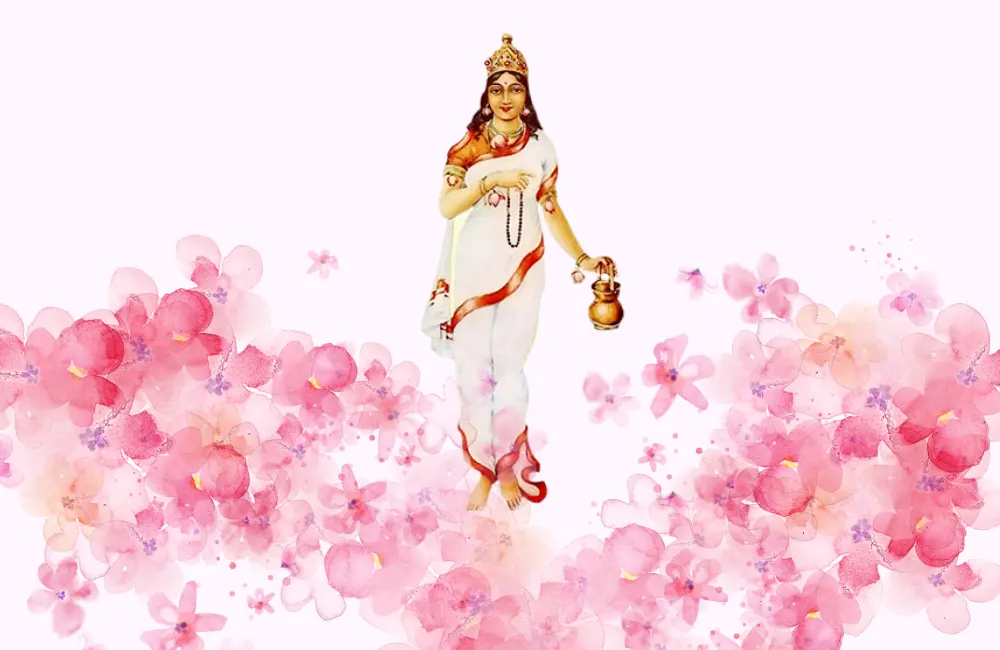 Maa Brahmacharini
Another manifestation of Parvati, Brahmacharini, is worshipped. Parvati became Sati, her unmarried self, in this incarnation. Brahmacharini is worshipped for liberation, or moksha, as well as the blessings of peace and wealth.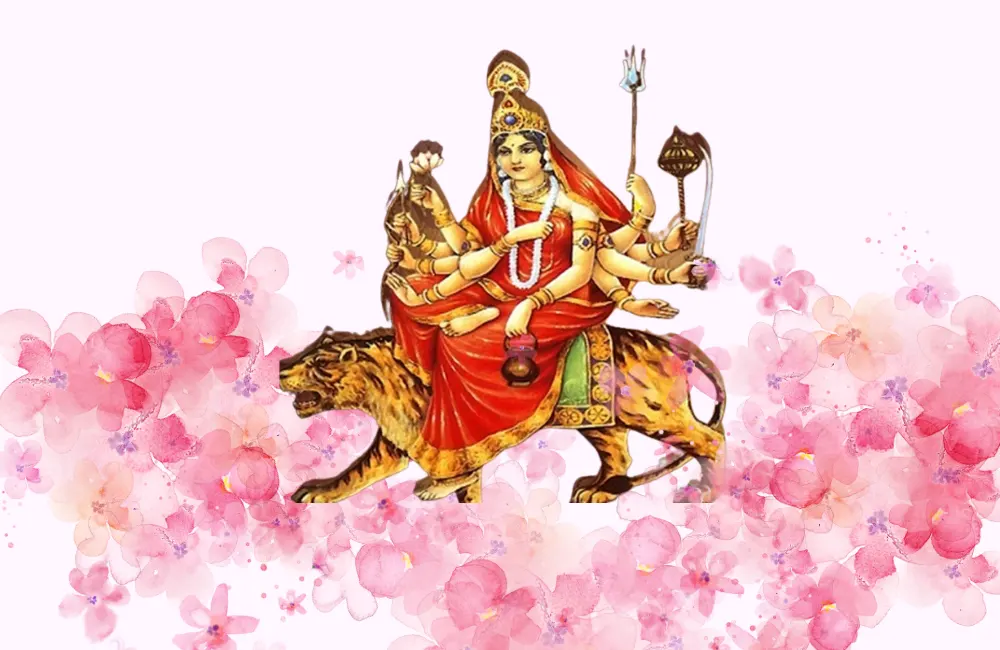 Maa Chandraghanta
Tritiya celebrates the devotion of Chandraghanta, whose name comes from the fact that after marrying Shiva, Parvati decked her forehead with the Ardha Chandra (lit. half-moon). She is both the embodiment of beauty and the symbol of fearlessness.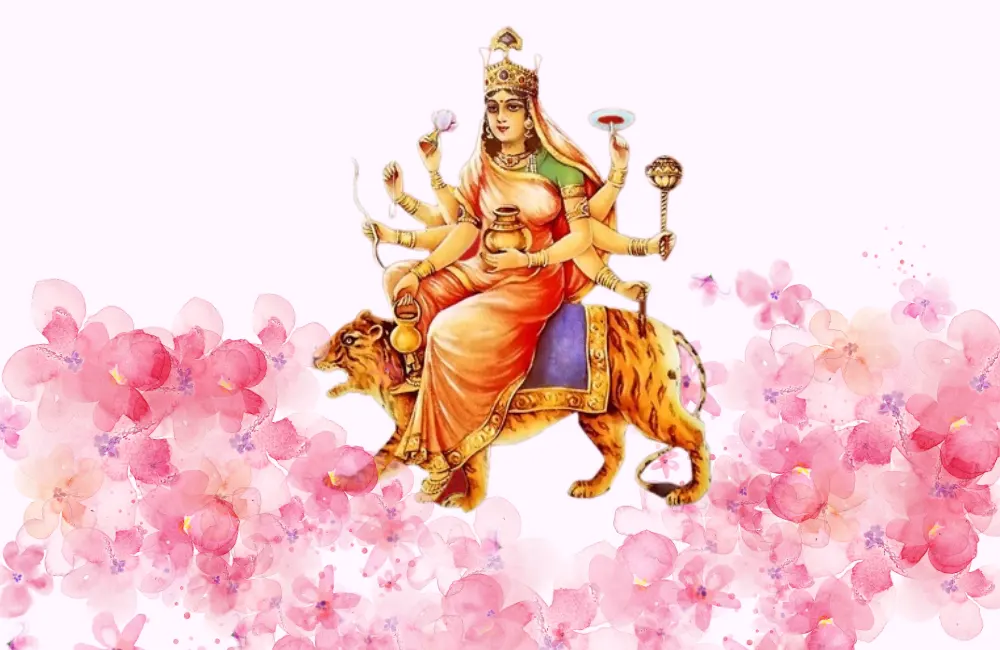 Maa Kushmanda
On Chaturthi, Goddess Kushmanda is worshipped. The creative power of the universe is related to the blessing of vegetation on Earth. She is portrayed as having eight arms and riding a tiger.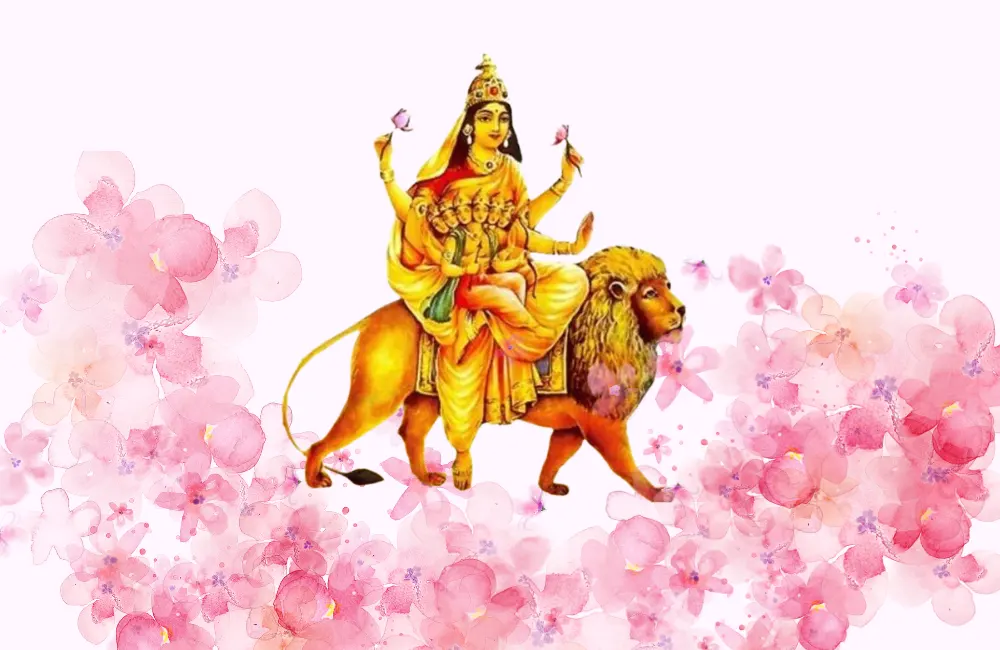 Maa Skandamata
Skandamata, the goddess worshipped on Panchami, is Skanda's mother (or Kartikeya). The shifting strength of a mother when her child is in peril. She is shown riding a fearsome lion, cradling her infant, and having four arms.
Maa Katyayani
She is an incarnation of Durga, born to the sage Katyayana, and is shown to have courage, which is indicated by the colour orange. She is known as the warrior goddess and is one of Devi's most ferocious incarnations. In this avatar, Ktyyan rides a lion and has four hands. She is a swaroop of Maha Lakshmi.
Maa Kalaratri
On Saptami, Kalaratri, the most furious manifestation of Goddess Durga, is honoured. Parvati is said to have shed her fair skin in order to kill the demons Sumbha and Nisumbha.
On Saptami, the Goddess emerges dressed in white with fury in her fiery eyes, and her skin turns black. The white colour represents prayer and tranquillity, assuring believers that the Goddess will keep them safe.
Maa Mahagauri
The eighth day of Navaratri is dedicated to Mahagauri, she represents intelligence and peace. Devotees worship maa and get their desires fulfilled with her blessings.
Maa Sidhidatri
People pray to Siddhidhatri on the last day of the celebration, also referred to as Navami. She is said to have all the forms of siddhis and sits on a lotus. She has four hands here. Sri Lakshmi Devi is another name for her.
May the goddess Durga shower her supreme blessing on you and your family.
Jai Mata Di